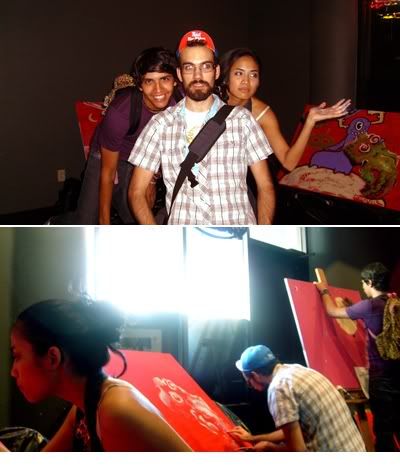 L

ive art show was a blast! we had a

huge turn out

- probably the most constant i've seen the venue filled. It was fun. Fike, mendez and i started at our own canvases then traded every hour, randomly jumping into eachother's pieces now and then. for a trio with very different artistic personalities, we were pretty dynamic, I feel.


W

e still want to add to our pieces. Anyway, it was lots of fun for the viewers and for us. I'm excited that the Kamon owner is excited and I'm excited to think of the future of what other shows I can organize with friends. The live art show was something I was nervous about but something I looked forward to, and it delivered. I wanna thank my co-hordes and everyone who came out and supported! I'm glad some of you are hooked, now, because there's only good things comin'!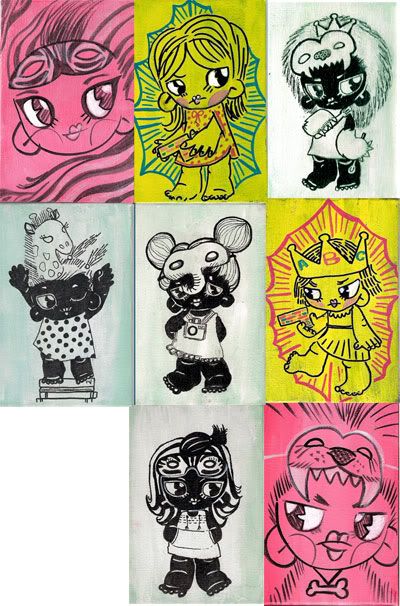 H

ere's some minitaures I prepared for the Invisible CHildren Benefit Concert.

left to right- top to bottom (50% proceeds)


Zooey Zebra

[SOLD]

| Kid with Gun | Lola Lion mini
[SOLD]
Gigi Giraffe mini
[SOLD] |
Emily Elephant mini
[SOLD] |
Kid with Gun 2
Zooey Zebra mini
[SOLD]
|
Lola Lion face mini





I

also sold 2 old pieces,

Flo and Kimmi

. Both 25% proceed.



I

also donated a painting

named Lola Lion

to the raffle. It was put up for grand prize.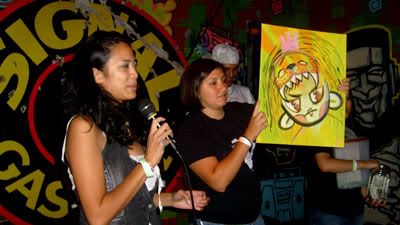 T

he winner was coincidentally a guy who bought one of my bad milk prints, at my last solo show. Here he is chillin' with Lola:






I

am amazingly honored to have been asked by the Sac State APO-ks chapter to help them organize the art show section of the show, since I am a big fan of this cause!


www.invisiblechildren.com


check out the documentary on google videos- i gaurantee you, you will never forget it!



I

want to thank Justin for building that awesome wooden double sided table canvas hanger thing. I bugged him all month and he delivered only to be turned down by the owner of our venue. The worse business owner I've ever had to collaborate with... I am happy I won't be working with him, again.