goes to SHEPARD FAIREY,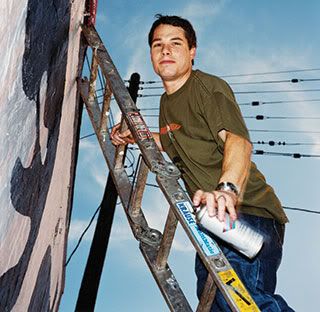 ...who makes viral and beautiful art -he is known as the Godfather of American streetart and as the creator of OBEY campaign's Andre the Giant-but appears inconsistently hypocritical in his own approach towards making money through hating on Big Business...
AND, recently... after creating more hype off his OBAMA HOPE poster, started being hypocritical about his long time friend, the practice of appropriation!
(For those of you who do not know, his first big hit was a sticker campaign surrounded off of his FIRST ever silkscreen of an Andre the Giant newspaper clipping.)
Fairey is now reportedly insulted about recent appropriatiosn and is moving to legal suits.
Nany Dada says, "BOO!" Bad sportsmanship!
He was doing his thing, and supporting the arts in schools... but after some time, you just lose respect for some big timers...