Our Betty is done!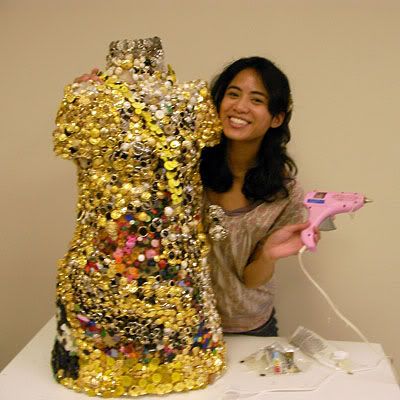 [Her front, about 3 ft tall. Yellow measuring tape and large pins included!]
She's a dress form we made of paper mache and chicken wire.
[Her back- all gold with some parts of her snazzy rag-tag personality peeking out]
She's got some 80s in her color and glitz.
She's super intricate and and has a lot of "bossy!" attitude in her stance.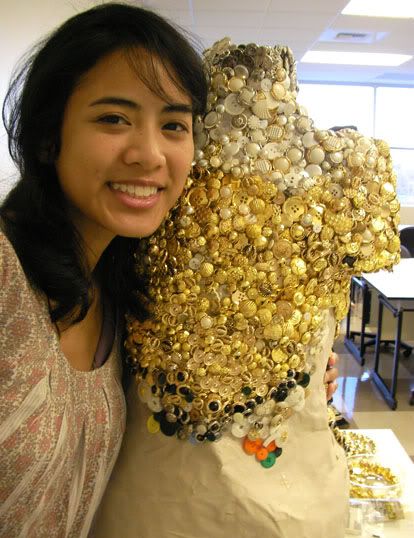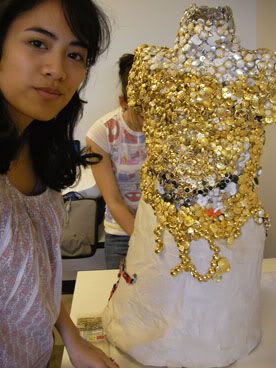 She's covered completely in buttons!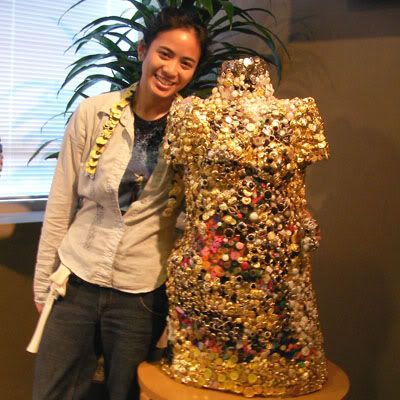 Love her! Here she is on display in the Art Institute, Sacramento.
We worked very hard on her and are seeking a home for her!
If you are interested, email me at

yellownany@gmail.com

!
ten tiny things to be happy about today


1) Seeing my Ma who I haven't seen in too long. Also, smiley babies that babble.


2) Car rides with bestie, Chelle, while the sun rises and fog lingers over ponds near I-5. Also, seeing white blossoms against an azure sky! Wish I was able to capture the classic lightposts against them!


3) More free breakfast from culinary department than I need to eat -2 days in a row! Also, sandwiching Hersheys mini bars between animal cookies.


4) Easy midterms. And getting to do a children's book illustration- as

homework! Oh!

And all the time I needed to take a better look at Over and Over and Hand Job by Mike Perry!
...

Oh!
Getting away with putting macarons in all my projects because people know I'm crazy about them, anyway.

5) Good rain but clear skies for walks at the park! Too many dizzy playground contraptions and swings to ourselves
...
and tiny boys trying hard to impress you with their running skills, Spiderman shoes, and Bumblebee shoes.
6) My Justin getting me Jonathan Safran Foer's 2nd novel, which I already am in love with. Also, the first icecream outing of the year! We did it big- Baskin Robbins. Mint Choco soft serve shake and cookies & creme icecream with cookie dough, m&ms and chocolate syrup! Mmm!

7) Backdrops of a Chinese playground where kids play in puddles behind Gustav, my lizard's tank.- making her , therefore, in China.


8) My friend getting me a Hello Kitty plush toy and Valentines for no reason except that she knows I like her! Also an artist card which has a cupcake on it. For the same reason.


9) Playing dress up in fun styles without having to buy anything. And palindromes like : "Away, sir! A Papaya war is on!"



1o) Seeing Coco -the film with Audrey Tatou I've been waiting for-'s trailer for the first time! Also, anticipating see McQ at Target (and the Blythe ads) AND Koralie's Etnies line collaboration.